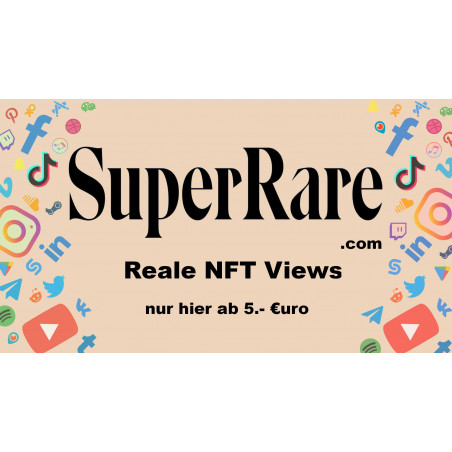  
SuperRare .com NFT Real Views, nur hier für 5.-€uro
Was ist SuperRare .com?

SuperRare eine Plattform auf der privatpersonen, kleine und neue Unternehmen die Möglichkeit haben, Ihre Werke zu vermarkten.
Je mehr Views, desto mehr Interessenten! Hier haben Sie die Möglichkeit bis 10.000 Views zu kaufen
Sicherheitsrichtlinien
besuchen Sie den Link
Lieferbedingungen
Die Leistungen von uns sind Onlineprodukte. Wir vesenden, erbringen sie online! Deshalb kostenlos!
Rückgabebedingungen
Bitte besuchen Sie untere Link
Note:
-Please don't order for the same link at the same time.
You have to wait for the first order to be completed then you can order again.

-If you changed your account to private mode or the account/NFT was deleted your order will be
automatically marked as completed and we will not guarantee any refund.
SuperRare .com NFT Real Views